Yamaha EF2000IS vs Honda EU2000I
Camping trips with family and friends are always fun and rewarding. Limited storage, however, can get in the way, which is why many people take their RV or recreational vehicle with them on these adventures on the road. 
The luxuries of caravans or motorhomes are many and diverse, including the comforts of electrical appliances while on the go. The thing is this: you technically need to power these devices from your vehicles. Batteries can run out of juice fast. 
So what's left to do? Install a generator in your RV. In this case, a portable generator. 
In this blog, we're on a mission to determine which of the two most popular portable generators emerge as the better option for you: the Honda EU2000I or the Yamaha EF2000IS. 
This face-off exists because these are both 2000-watt inverter generators that are much sought-after on the market today. They are both smart investments if you're eyeing a lightweight, quiet yet powerful generator for your caravan. 
Whether you're camping or tailgating, these two inverter generators are more than capable and can deliver well. But which one is better? Let's get the comparison review started. 
Why Need an Inverter Generator in the First Place?
An inverter generator is a kind of outdoor equipment generating and converting DC electricity into AC. 
However, it takes an extra step in the process, which traditional generators don't. It's about transforming raw energy from fuel to DC power, then the power is converted into the standard 60 Hz, 120 volt AC electricity. 
The outcome: more stable power supply than what standard generators offer. 
Here are some key advantages of choosing an inverter generator.
Inverter generators are eco-friendly
Because it doesn't make as much emissions as traditional generators do, an inverter generator is much more environmentally friendly as a portable source of power. 
It also doesn't consume a lot of fuel, saving you serious money. 
Inverter generators use pure sine wave
This feature makes the electricity produced safer for sensitive types of electronics. An inverter generator produces the same quality of electricity that your main power company supplies. 
Inverter generators are more fuel-efficient
When it comes to conventional generators, there's much power produced. But since their motors operate on a single speed at all times, they are hardly fuel-efficient no matter how many gadgets or appliances you're using. 
An inverter generator, on the other hand, powers up or down based on the demand. 
This means it consumes less fuel, emits less smoke and fumes. 
While not as powerful as your traditional generator, you can definitely use your inverter generator longer. 
Inverter generators are portable
An inverter generator is definitely much more mobile than your traditional one. It's designed for compact appeal, to be easily taken with you on camping or road trips if you're looking for a portable power source for your needs. 
Its traditional counterparts are heavier and bulkier, owing also to their larger fuel tanks. They will be difficult to transport from one place to another. 
Inverter generators are quieter
Now let's talk about noise levels. 
We don't doubt for a minute that we can hear a traditional generator from almost a kilometre away. It's not their fault at all that they have bigger motors constantly running on full speed!
In contrast, an inverter generator can be impressively quiet due to its design and its motor's ability to power up or down depending on the demand. 
Just to quickly note, inverter generators are typically made with more advanced technology in order to be more efficient, stable and better performing. 
Its difference from traditional generators, though, mainly lies in the way the electrical current is produced. 
As stated earlier, inverter generators have three phases in producing electricity: generating high frequency AC from fuel, converting it into DC electricity and then converting it back to a more stable AC. 
In the case of conventional generators, they produce high-frequency AC electricity constantly. 
This mechanism works for typical appliances like electric fans or toaster ovens. Note, though, that it can damage sensitive machines such as mobile phones and laptops. 
Now that we've got the basics out of the way, let's go to our main comparison of the Yamaha EF2000IS and the Honda EU2000I. Let's evaluate them across various areas and see which stands out in a specific aspect! 
Yamaha EF2000IS: Are Yamaha Generators the Best?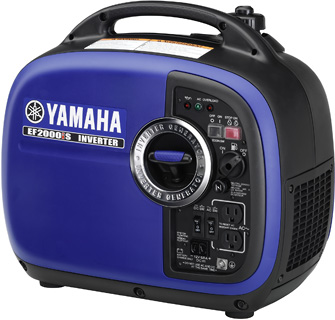 Here's a quick overview of this Yamaha portable generator:
1600 watt rated AC output

2000 watt maximum AC output

13.3/16.7 amps @ 120V

Ultra-quiet muffler with USFS-approved spark arrestor (51.5 dBA at 1/4 load)

Inverter system with Pulse Width Modulation (PWM) control

Smart Throttle changes engine speed based on load for better fuel economy and reduced noise

CARB-approved
Honda EU2000I: Are Honda Generators the Best?
Here's a quick overview of this Honda portable generator:
2000 watts

120V

Up to 8.1 hours on 1 gallon of gas (highly fuel-efficient)

Extremely quiet

Portable and easy to lug around

Ideal for use on TV/DVD, satellite, fridge, coffee maker, etc
Inverter Generator Face-Off
Design and size
This Yamaha unit comes in a bright, noticeable blue and an elegant look to it. It comes with handles and wheels assisting with movement. 
It's also quite a given that the generator is very compact and lightweight, so you don't have to worry sick over getting inconvenienced on your trip. 
Yamaha's product dimensions are 19.3 x 11 x 17.9 inches. A unit also weighs about 44.1 pounds.
The Honda generator comes in a fiery red color. Like its Yamaha competitor, it has handles and wheels for easy lugging around. It's also light enough to move around, scoring just as high in ease of movement and convenience. 
This Honda generator is 20.2 x 11.4 x 16.7 inches and weighs slightly heavier than the Yamaha one at 46.3 lbs. 
The difference is negligible, so this is honestly a draw.
Power outlets
Both portable generators produce the same power. 
The question is: what can you connect? 
Both Yamaha and Honda generators boast of two 120V AC outlets and a 12V 8A DC outlet. 
This means this round is also a draw, with both enabling you to connect your standard AC appliances while charging a battery for your motorhome. 
Noise levels
The noise produced by a generator is usually a make or break for some people. 
Anyway, who would want to spoil their vacation with unnecessary noise? Who has the time and patience to shout to their family or friends over the noise of the generator?
The face-off in this case, however, can be determined against various considerations. The manufacturer information states that at 25% load, the Yamaha unit produces only 51.5 decibels, versus Honda's 53 dB. 
Mind you, though: at 100% load, the story changes. The Honda generator gets ahead of the other at 59 dB compared to the Yamaha's 61 dB. 
Power
This is a critically important criterion, as a generator is mainly used for power. 
In this comparison, it's crucial to establish that both models produce the same level of power, namely at 2000 maximum watts (16.7 amps) as well as 1600 running watts (13.3 amps). 
Both also produce clean power. Using pure sine wave, your sensitive electronics are in safe hands, too. 
In this round, the Yamaha and Honda generators are on equal footing. 
Fuel consumption
You would want better fuel efficiency from these two. 
Let's be clear that both portable generators are efficient and able to alter their engine speed to match the required power demand. This then enables both to have good fuel efficiency. 
Similar results can be seen with fuel capacity (Yamaha's 1.1 gal and Honda's 0.95 gal) and fuel consumption rate at 25% load (Yamaha's 0.10 gal/hr and Honda's 0.12 gal/hr). 
However, at running time at 25% load, Yamaha edges out Honda at 10.5 hrs compared to just 8.1 hrs.
Ease of operation
Both Honda and Yamaha models are highly reliable in their manual pulling recoil start. Maintenance is also a breeze with low oil level warnings as well as overload protection. 
This means you know if the time is right to replace the oils, without worrying over generator damage due to overload. 
You may also configure both units with a second matching model in parallel, meaning you can double your output quite easily. 
Other features
Both units have the parallel capability: you can connect identical units via a kit and double your overall output power. What this means is you don't have to afford buying a bigger or more potent generator anymore. 
It's worth noting that the Yamaha generator features rubber feet for reduced noise and vibration, along with detachable side panels as well as an auto-decompression system. 
Honda, on the other hand, harnesses advanced inverter technology that fits the profile of sensitive electrical appliances. 
Price
Now comes a frequent deal breaker for many people: the price tag. 
The good news is the two units have comparable prices. The not-so-good news is they are quite pricier than your typical portable generator, and understandably so because of the bevy of benefits they offer. 
Final verdict
The features and specifications of the Honda EU2000I or the Yamaha EF2000IS are honestly highly identical.
While the Yamaha maintains a slight edge because of its fuel consumption as well as slightly more affordable price, the difference is quite negligible just like in most areas of comparison. The Honda makes up for this, too, with its low noise and greater connections with sensitive electronics. 
This boils down to your own personal preference -- what suits your needs best for your camping or caravanning adventures! 
Some FAQs on Inverter Generators
Here's bonus frequently asked questions (FAQs) on portable inverter generators before you decide to buy a unit for yourself. 
What inverter generator can power up your fridge?
Choose a unit that produces up to 3.5kW for this purpose. It's best to know the power requirements of your appliances and figure out how long you're going to use them inside your motorhome. 
Are inverter generators the better choice?
If you want a low-noise back-up power source and something to power up your lights and gadgets while camping or caravanning, then inverter generators are a sound investment. 
What makes these generators so quiet?
Without being too technical, their motors are hermetically sealed. This substantially drives down the noise levels. In addition, their motors go up or down based on demand. They don't run on full power constantly, unless used that way as intended. 
What if I come across an issue with my inverter generator?
Double-check the warranty in case your unit runs into an issue. The brand should be able to fix the problem for you without a hitch or added cost. 
It doesn't hurt to go through the product manual and guidelines to make sure the warranty doesn't get void.