5 Best Generators for Camping in Australia
Whether you're staying at the same campsite, moving from one location to another, or constantly hitting the road, the best generators for camping can make a difference to your trip. 
In true Australian fashion, there's a world of camping generator products that you can choose from and use for many years to come. 
What Can a Camping Generator Do? 
With friendlier prices and more tech advancements, camping generators are rising in popularity amongst Australian campers. 
Here are some benefits of using a camping generator:
Ensure safety at campsite
When it's dark in the middle of the forest or the campsite, a portable generator can help you light your space during the night and ward off human or animal intruders. This can also ensure the safety of your belongings. 
Keep your gadgets powered
A camping generator keeps your gadgets charged, particularly for emergencies. You might want to go off-grid during your trip and not bring a lot of phones or tablets with you, but there's still need to power your camping space as well as your camera for capturing precious moments during your adventure. 
Help out in cooking
Part of the fun of camping or caravanning is enjoying a hearty, delicious meal. Imagine meats roasting over the campfire or hot drinks getting prepared using an electric cooker or heater. A portable electric stove always comes in handy! 
When you have fewer things to think about while camping, you get to enjoy the experience better and make it more memorable. Portable generators can ease your worry and spell greater convenience for you and your family or loved ones while on the road. 
A camping generator can be roughly categorised as either a smaller inverter generator or larger utility generator. In the next section, let's discuss inverter generators in particular. 
Overview of Inverter Generators
Family campers in the country are often recommended to buy an inverter generator to power most of their electronics at camp. 
If you're eyeing portability, then this kind of generator is a sound option. 
Next-gen portable generators have a built-in sensor triggering an automatic shutoff if the carbon dioxide levels build up dangerously in enclosed spaces. Inverters offer just that: a CO safety shutoff feature, although you should stay vigilant and not be lulled into a false sense of security when it comes to these things. 
Further, inverter generators provide enhanced performance via fuel efficiency and reduced noise, according to Consumer Reports. This advantage may reflect on the price, as this type is generally more expensive than conventional models. 
In a nutshell, an inverter generator throttles the engine up and down electronically in order to meet the demand. It does this instead of running full tilt at all times. This leads to efficiency, and thus lower emissions and less noise.
Recreational inverter generators weigh lighter and are designed for carrying with a single hand. They max out at about 2,000 watts, which should be enough for camping. 
Factors to Look for When Choosing an Inverter Generator
There are several considerations you need to make when shopping around for a camping generator. Here are some elements to factor into your decision. 
Power output & performance
Powering a number of devices means looking for a generator with a higher output. while the wattage is the top indicator, other elements can be factored in, such as the type and number of power sockets.
Think about the type of devices you will use as well.
Inverter generators are highly efficient and can run all night depending on the number and type of appliances. They can last for eight to 10 hours depending on several more factors, including the climate, size of petrol tank, maximum output, and range of devices being powered. 
Size and portability
Size is another important consideration as you're dealing with limited space in your caravan or motorhome, and would want to allot that space to other key items in your camping trip. 
Camping generators are generally smaller than utility generators and weigh anywhere from 15 to 20 kilograms. 
If you have a lighter and more portable generator, it's easier for you to move around the campgrounds. 
Noise output
Most modern portable generators make little noise, with most brands having fewer than 60 decibels at 10 metres. This is a critical consideration to make as you would want a good camping atmosphere even if you're powering your appliances, especially at night. 
Price
The good (or bad?) news is that most generators in the local market have similar price points. Smaller camping generators (1000W capacity) are usually available at $800 to $1,200, while those with 2000W can be bought at between $1,000 and $2,000. 
List of Inverter Generators for Camping
Let's get right to our list of top camping generators on the Australian market today. 
GENPOWER Inverter Petrol Generator 4500 Watts Max 3500 Watts
What it is
The GENPOWER SV7000 is an inverter generator that offers a fairly high power output while running relatively quietly. It can operate for 10.5 hours and emerges as one of the best silent camping generators in its category. 
With the model comes 4.5 kilowatts of power output from 12 litres of fuel tank capacity. Noise level is at 59 dB. 
This model comes with two 240-volt outlets along with two USB ports, parallel outlets for added power and 3,500 watts of continuous rated output. The fuel tank enables you to enjoy full power for about five hours. 
Why you might choose it
It's user-friendly with a push start button along with a manual pull start cable as backup. There are warning features for safety.
As a potential downside, it can be rather heavy. However, you can transport the unit around using the sturdy telescopic handle as well as large all-terrain wheels. 
If you're looking for serious power for your needs inside your motorhome while camping, then this GENPOWER generator can be a handy choice.
Honda EU22i (2200 Watt) Inverter Generator
What it is
This Honda inverter generator is part of the series that's deemed one of the best and most flexible on the market today. 
It comes with 12V charging leads, toolkit, manual as well as pre-delivery and 4-year Honda warranty. It is able to run most caravan air conditioners today and can safely power all electronic and computer equipment. 
The unit also features the 4-Stroke GXR120 engine, which is 20% bigger in capacity than the EU20i. It has a 2,200W maximum output along with up to eight hours of continuous operation. It has a four-litre fuel tank, too.  
Why you might choose it
The Honda EU22i is top of the line with its ability to power a larger caravan or campsite, its improvements on the previous EU20i unit, and the Australia-wide warranty that applies. 
This Honda generator is ultra quiet, fuel-efficient, portable and easy to operate with the one pull easy start system. 
On the other hand, Honda generators are typically pricier than other brands. This specific model also doesn't come with USB charging points for charging modern devices.
Cromtech Outback Inverter Generator 2.4kW
What it is
This Cromtech Outback inverter generator is a highly recommended portable generator for camping for being quiet, easy to start and providing pure sinusoidal output that's ideal for phones and devices with an electronic control unit. 
It boasts of dependable DC/USB outlets, a one-year warranty and decent after-sales support. 
Worth noting is its fuel-saving eco-mode, minimising fuel consumption and allowing for up to 20 hours of use on 5L of fuel.
Why you might choose it
With power and reliability, the Cromtech Outback generator is a smart choice for recreational and domestic use. For instance, it has low oil shutdown protection for the engine, power overload protection as well as power output light. 
It can run aircon units with ease, and perhaps to you and your family this is what matters as also other requirements are satisfied? Other stuff it can power include a small office, small power tools and portable fridge freezers, to name a few. 
The one-year warranty may leave a lot to be desired for some shoppers, but this inverter generator might be worth a second look. 
Baldr 330W Portable Solar Generator 
What it is
Another contender for the best inverter generator for camping is this BALDR unit, which provides up to 330 W of clean power. 
A sturdy, portable solar generator, it weighs just a little over 3 kg and offers a master power button and individual buttons for turning on plugs. 
Charge the unit three ways: via your own solar panel, carport or wall outlet. A unit gets fully charged after around six hours. 
This camping generator provides 0.3kW of power output, eight hours of run time and about 3.2 kg in weight. It also has a display screen for showing power outage and battery level, along with three USB C ports and a single outlet. 
Why you might choose it
This generator appeals to those looking for clean power, three charging methods, long battery life and a robust yet lightweight quality. 
The potential drawback comes in the form of limited power output.
Adventure Kings 2KVA Generator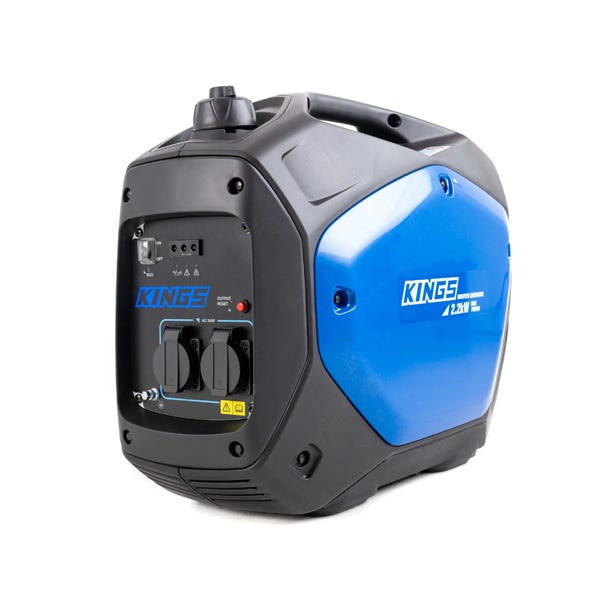 What it is
A low-cost option, this Adventure Kings inverter generator is an entry-level charmer that features just 18.5 kg in weight, a 100cc 4-stroke engine with 2,000W power output and two 240V plugs. 
There's an economy control unit that adjusts engine speed, suiting power draw needs. 
Why you might choose it
It may not have the quality build seen in Yamaha, Honda and others, but this Adventure Kings unit offers an unbeatable price of $399. This makes it the cheapest of its kind and offerings on the market.
Consider it a good initiation to camping generators, and eventually upgrade as you see fit!
Further Notes on the Best Camping Generator
We can't stress enough that there's an entire lineup of factors to consider when choosing the best generator for camping.
This might include considerations such as pure sine wave output, AC power and DC power, how much it can power appliances and more power output indicators.
Quality of Output
With choosing the best camping generators, note that nearly everything has some kind of sensitive electronics or microcomputers in them. This means they require "clean power" or electricity with a pure sine wave technology, much like the power coming out of the power points you have at home.
The short of it is that the best technology for this lies in a generator with inverter technology. Inverter generators get this done via a multi-stage approach to converting the AC output into DC power, then transforming it back to a pure sinusoidal AC output.
You can't have this with older generator styles, so modern generators using inverter technology are your best bet.
Safety Reminders
Avoid operating the inverter generator in  enclosed spaces to prevent toxic exhaust fumes from building up. 

Keep the camping generator away from moisture or rain, which won't mix well with electricity.

Maintain an isolation switch in your fuse box if you're running the inverter generator as a home backup generator in case of a blackout.

This generator provides power at mains voltage: 240V AC, which can kill.
You're all set with your camping equipment, particularly for extended camping trips, once you've chosen an inverter generator that fits your needs, budget or preferences.