Best Spare Wheel Bag 2022: The Ultimate Guide to Organise Your Dirty Gear During Camping or Caravanning
When you're out camping or negotiating the roads in your 4WD or motorhome, it doesn't take much for rubbish to collect. Dealing with it can be quite a pain, and while it's easy to take it home with you it can be terribly unnerving to smell trash in the back of your vehicle! 
How about a spare wheel bag? 
This nifty caravan accessory is the ultimate solution to prevent a total recipe for disaster. Simply mount it off your tyre and rubbish won't smell your vehicle out and ruin your all-Australia trip.
In this blog, we'll provide a rundown of the best spare wheel bags to explore this year on your travels. As Australia opens up and more and more people take camping or caravanning adventures, a reliable spare wheel gear bag comes in handy for the spate of road trips you'll likely have in the months to come. 
Let's have a look at the various brands around and their features, benefits, and overall value for money. 
Why Get a Spare Wheel Bag in the First Place?
A sturdy, spacious bag on the back of your spare wheel is a great place to store all your dirty gear or rubbish when you're camping off grid or caravanning. 
This way, you don't have to store your wet, dirty or stinky stuff inside the vehicle, right in front of your nose or your family or kids' view. 
Picture this: You're off-grid camping in Australia, and it will be a three-week trip where trash bins are probably hard to find. Without a spare wheel bag you're risking rubbish inside your car spilling out onto the open space during the ride, stinking up the precious interiors. 
These are just some things you can store inside your wheel gear bag, also commonly referred to as a spare wheel rubbish bag in physical stores and online:
Dirty clothes
Dirty gear easily amasses especially if you have more people on board, such as children or large groups. A change of clothes every day adds up, so you need dependable storage for your dirty clothes and linen. 
Wet gear
Coastal destinations like beaches and lakes are a favorite destination, so it's not out of the ordinary to collect wet swimming clothes during your camping or caravan trip. Besides being heavy, these things can smell when not dried out immediately. 
Rubbish bags
A spare wheel bag is particularly important if you're a firm believer of taking your trash home (or at least bring it to the next campgrounds or caravan park to dispose of properly). These wheel bags can function as a container to store rubbish until you can get rid of the items responsibly. 
Recovery gear
Perhaps a novel use for these bags is as recovery gear, where you can store 4WD equipment and kits, for instance, to ensure your RV or offroader is well taken care of. 
Camping gear
If you're the type who packs heavily for a classic Australia camping trip, then a spare wheel bag can be useful for storing things that don't fall under one of the categories above. "Camping gear" can mean many things to different people, so go crazy with your definitions if you find something makes your trip more worthwhile! 
For your next adventure, you'll find that there are quite a number of spare tyre bag options available on the market. They have different prices, sizes, features like reinforced eyelets or the makings of a pathetic product that likely won't work flawlessly at first glance. 
Let's get started trying to get you a spare wheel storage bag that organises either your wet gear or your rubbish. 
Characteristics to Look for in a Gear Bag for Your Spare Wheel
Spare wheel bags clip around your spare type, or perhaps the rear of your camper trailer, quite well. They are big enough to carry several weeks' worth of camping or caravanning waste. 
The good news is these spare wheel bags aren't too expensive, meaning you won't have to invest a huge sum for the storage solutions they offer. As a bonus, they can even provide some protection for your spare wheel against the harsh sun! 
Here are some qualities to look for in your rear wheel gear bag:
Size
See what spare wheel bag is able to accommodate your clothes, wet towels, wetsuits or children's toys. Or maybe your recovery gear. Consider the number of days you're travelling, too, which means the bigger, the better. 
Hardware and materials
Remember that the bag will sit outside your vehicle and will travel rough all throughout -- meaning it should be made from sturdy, heavy-duty materials and come with topnotch hardware. 
Usually these things are made of heavy duty canvas or PVC, feature a doubly thick base and strips, have reinforced stitching (originally sewn to last) and don't come with problems zipper or other parts of poor quality usually cause. 
Extra storage
No problem if you simply want to store rubbish. However, if you're getting a 4WD spare wheel bag for storing different things then you would want one with multiple storage pockets. 
Easy cleaning
Since one purpose of a spare wheel rubbish bag is to store dirty gear, then you wouldn't settle for one that's difficult to clean or maintain. Top-tier bags come with drainage holes at the bottom, so you can easily hose it down and water will come out of the bottom section. 
Now that we've established some awesome qualities to look for in your spare wheel bag, here are top-rated products that we've researched as well as use in our own travels. 
Top 4WD Spare Wheel Bag Reviews
Let's take a closer look at popular products in this category across the Australian market. 
Bushranger 4x4 Gear: The Original Wheelie Bin
We start off strong with this premium product made from high-quality reinforced PVC and built to last in storing rubbish, dirty clothes, wet gear or your recovery kit or equipment. 
The Bushranger spare wheel bag clips on and off easily using the 48mm harness mounting system that shows off some snap lock buckles. A strong clip system ensures that the lid stays closed. 
The main compartment has a 57 litre capacity as well as a moveable and ridged centre divider. You also get two side pockets with 5L capacity each, boiling down to 67L in total capacity.
You can easily install it on your spare tyre and remove, hose it down and even protect against dust entry via the large overlapping flap. The base has three vented eyelets for allowing liquids to drain. 
We can go on all day about how awesome the Bushranger is, but we find it's also worth highlighting that there's an added reflective strip included for increased visibility or warning, especially at night. 
Packed with a five-year warranty, this spare wheel bag promises no colour fade, too, as tested to a minimum of five years. 
MSA 4x4 Rear Wheel Bag
Perhaps one of the more expensive choices in this review list, the MSA rear wheel bag packs quite a punch in its fabric, hardware and sturdy build, especially for those regularly hitting the road. 
Offering 54L in capacity, this tough thing is made of quality 1680 denier PVC. This is backed by nylon and an extra reinforced base, which means you likely won't find tears as it gets filled with dirty gear or rubbish. 
This MSA bag also fits on a lineup of differently sized types. Easily install, remove and allow water to easily escape through the drainage holes inside for easy cleaning. 
Here's a rundown of some of the key features of this bag:
Fully adjustable harness system that fits any tyre size

Lock strap allows for padlocking to the wheel for additional security

Easy to remove alloy buckles on bag

Unique Anti-Drop harness system prevents the bag from sagging behind the vehicle when filled with gear

Extra zippered and reinforced pockets on each side for storage of smaller items

Reflective safety strips on the front for high visibility in the dark

Lockable YKK chunky twin zip & sliders

Two hanging tabs with stainless steel eyelets for around camp
As we previously mentioned, the price might be a bit of a deterrent. However, if you have dollars reserved for something that lasts, then you might consider choosing this product for all its premium features that its peers might have missed out on. 
Tuff Terrain Rear Wheel Bag
If you're keen on a huge 60L capacity for your spare wheel bag then the Tuff Terrain spare tyre bag is your best bet. 
Made for longer Australia camping trips and impressive storage space, this rear wheel bag features topnotch oxford waterproof 1680-denier fabric. You get three compartments to stay organised, all with heavy duty zippers that won't give up on you or your gear. 
Large mounting straps secure the bag to a variety of wheel sizes. 
We particularly love the point it makes on its product page, about how storing your rubbish improperly in the front seat is a "sure-fire way for flies, seagulls and other wildlife to be attracted to your vehicle". Makes total sense when you're living in Australia!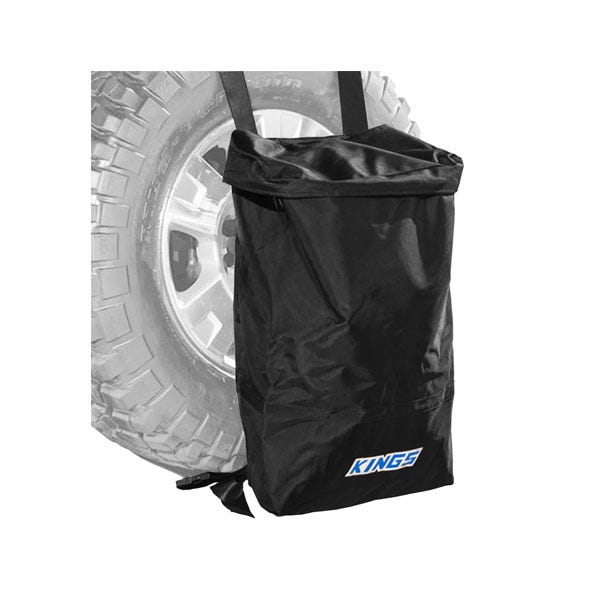 Adventure Kings Heavy Duty Dirty Gear Bag
If you're looking for something entry-level then this Adventure Kings dirty gear bag is a sound option. 
A handy choice in the budget range (from an established outdoor recreation brand nonetheless), this spare wheel bag is amazingly made from the same quality fabrics that some of its expensive counterparts are. That's tough, tight woven polyester with a PVC coating, providing the same flexibility for storage.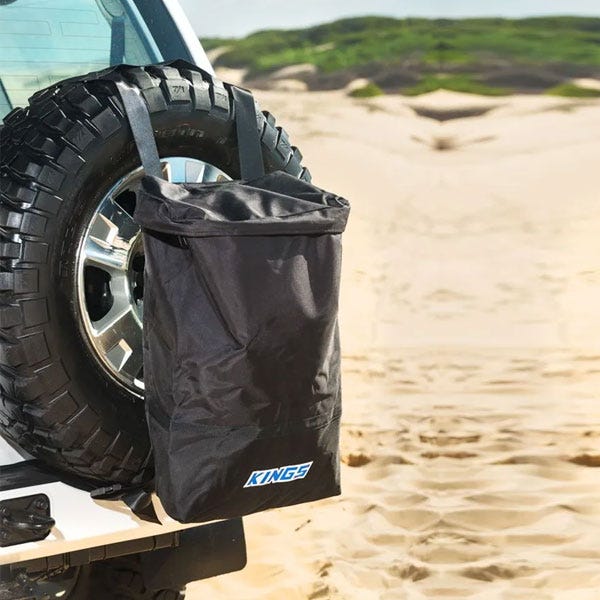 Get 45L in capacity for storing rubbish, dirty or wet items while out on the tracks, plus a double thickness base and lower wall sections for extra strength. 
The adjustable straps fit securely onto virtually every size wheel. In addition, there's the all-important drain hole for liquid to get through when you're cleaning up. 
Footnotes: Purchasing a Spare Wheel Rubbish Bag 
The thinking behind getting a rear wheel bag is simple: you'd want to store your rubbish, wet or dirty gear, as well as recovery kit or equipment out of your vehicle to avoid mess or stink during the trip. 
These spare wheel bags are typically made from heavy-duty, waterproof canvas or PVC, with a main compartment and usually built-in pockets for storage. Large straps securely hold the bag in place on various wheel sizes, with lockable closure around the bottom to secure your stuff. 
There's a drain hole or the base zips out for you to easily empty liquids when cleaning the bag. 
A dirty gear bag spares you from the horrors of a smelly, messy vehicle interior and makes you responsible for your own rubbish when exploring the wonderful outdoors. 
Pay attention not just to quality and price but also the stock time frames, average rating value, discount offer, or members price or club exclusive prices if available.
Check out our reviews of other Australia camping and caravanning essentials, from the
best solar panels
to
top reversing cameras
for your caravan. Of course, you can't do without t
op portable toilet and caravan cleaning solutions
while on the road!