Best Reversing Camera for Caravan: Australia Adventures on the Road
It can be quite a challenge to reverse your caravan. 
Only fittingly so, as maneuvering your trailer or RV backward into position is a question of safety. Here's where a caravan reversing camera comes in handy, helping you navigate blind spots well and tow with ease and confidence. 
The array of choices for reversing cameras available on the market can be overwhelming, so we have prepared a rundown of top products that can fit your needs, budget and preferences. 
Why Get a Reversing Camera? 
A high-quality reversing camera installed on your caravan is practically a must these days. It can prevent car park accidents and hassles, as well as offer peace of mind when there are children around. 
It might surprise you to know that some large vehicles like caravans and motorhomes are still not fitted with a reverse camera. The reasons may vary, but given safety precautions the benefits of a rear-facing camera pretty much outweigh the cost of buying one. 
Here are the benefits of having one inside your caravan. 
To prevent collisions
If you are able to see what's behind your vehicle you can prevent any potential collision with another vehicle. 
To prevent hitting a person
Children can be notoriously difficult to spot, so there are plenty of reported cases of a child getting run over in their own driveway or campsite  as an adult is reversing out. 
To avoid vehicle damage
You can incur expensive damage to your paintwork if you are reversing into a round pole or low wall and your reversing sensor misses it! 
Common Features of a Caravan Reversing Camera
Let's break through the confusion and have a look at the common features and technologies of these cameras. This way you don't have to deal with unfamiliar terminologies or crazy sales talk. 
Camera system
At least two cameras are needed, one pointed at the bumper for easily seeing behind the van while in reverse, and another directed upward for viewing the traffic behind the driver while moving. 
More cameras mean getting more points of view. This is why most reverse cameras today provide three to four for convenience. 
Anti-glare
We're in Australia, after all. 
A good caravan reversing camera offers anti-reflection displays, preventing excess light from bouncing off your LCD and messing with your vision while you're on a reversing mission. 
Different reversing cameras deal with sunlight in different ways. 
Wired or wireless tech
You might be choosing between a cable system or a wireless rearview camera. 
The advantage of the former is it's likely to have a friendlier price since the latter requires less setting up and is higher-end. 
Beware the potential for interference in wireless systems, though, particularly as it affects adverse weather conditions. 
Audio function
Gone are the days when you'd wave your arm furiously to guide the caravan while backing up. 
Audio tech in reverse cameras can spell greater convenience for you while driving, with a person on the outside communicating with you on the right direction to take.  
Caravan Reversing Cameras to Try
Contrary to what you may think, a reversing camera for your RV or motorhome need not be large or costly. There is a whole world of options out there, from small reversing cameras to butterfly mount cameras to waterproof types for 4WDs. 
The same wide variety applies to reverse monitors as well. 
Below are just some caravan reversing cameras to provide high-resolution and real-time images for a clear view of your vehicle from behind. 
Dometic RVS 545 - 5" AHD LCD Monitor & Camera
What it is
The Dometic RVS 545 offers superb rear view images. It's highly dependable because it's designed for truck drivers who are constantly negotiating the roads and are on the move. Caravans can benefit from the same device. 
This unit has a 5-inch screen with anti-reflection feature, a light-sensitive LCD and an integrated microphone. 
The system is temperature-controlled, meaning it can withstand cold and hot climates. No problem with your outback adventures! 
You're able to connect up to three cameras to the system for a comprehensive view of the surroundings. 
Added features include day and night switching as well as a mirror function for setting to your preferred conditions. 
Why you might like it
This Dometic reverse camera kit has a friendly price, particularly sitting in the mid $300 range. It comes with a one-year warranty. 
Easy to use and with practical features (like a max operating temp of 70 degrees C, you'll find this product is a good initiation in the world of reversing cameras. 
Elinz 9" DVR Monitor 4CH Realtime With 3 Cameras Package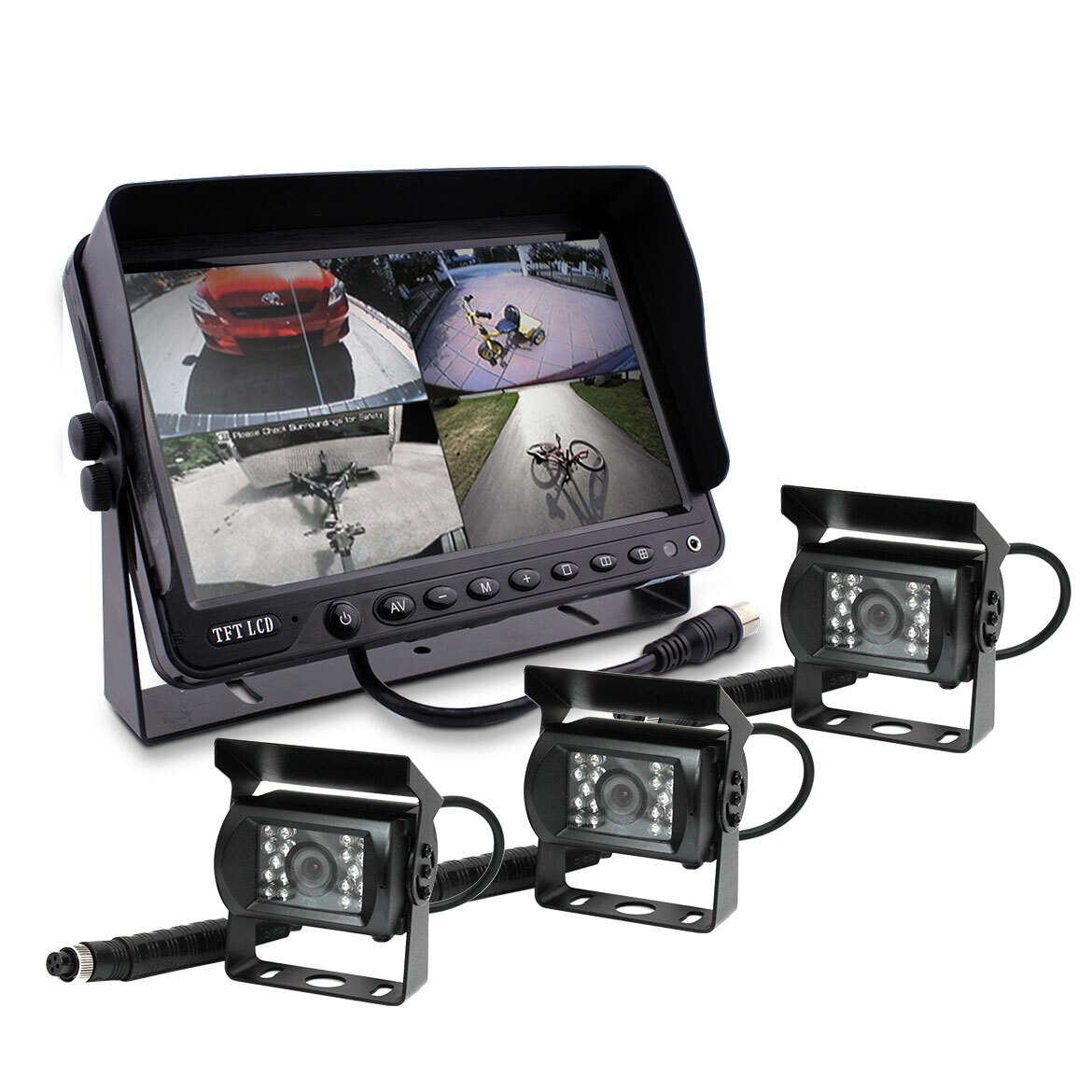 What it is
This Elinz reversing camera has a 9-inch monitor, four ports for camera connections and a package that comes with three cameras. 
You can use and display the cameras simultaneously, getting topnotch coverage for seeing what's behind your caravan. 
The cameras also have 18 infrared LEDs for high-quality images at night. Best of all, they're waterproof! 
Why you might like it
Heavy-duty and feature-rich, this Elinz camera and your caravan are a match made in heaven. 
We particularly like the night vision and waterproof qualities, making navigation a breeze where it's day or night. 
The product guide / manual is also exhaustive, not letting you figure things out just on your own. 
Safety Dave 5.8" Sunshield Rear Vision Kit
What it is
Primarily targeting campers and caravanners, this Safety Dave caravan reversing camera pretty much gets the job done. 
It provides a decent camera boasting of a 5.8-inch and two-channel rear view monitor. It's simple and straightforward: just attach the unit to your windscreen via a suction cup. 
The screen comes with a sun shield to prevent glares, while the waterproof eyeball camera and dust caps protect against the elements. 
Why you might like it (Or not)
It's a reputable brand all right. 
Yet at nearly $500, Safety Dave isn't the most affordable out there. Perhaps what makes up for this price is a two-year warranty for your peace of mind. 
Working with only two cameras (instead of competitors' three or four), the reverse camera raises questions on whether it's the best value for your money. 
Furrion Vision S Rear-Vision Camera & 7" Display Kit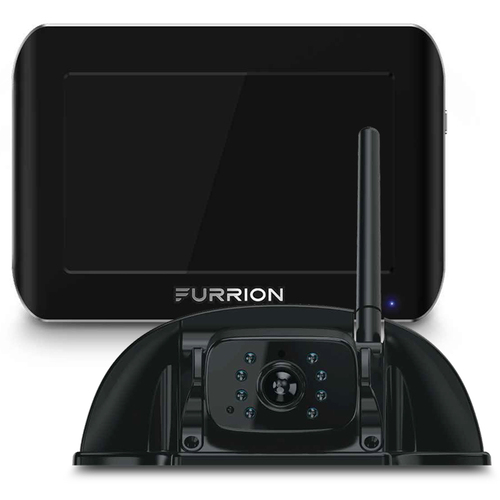 What it is
A standout option in the caravan reversing camera world is this Furrion unit, featuring an advanced technology enabling it to operate a digital wireless system with an impressive 150m range. 
Furrion offers a 7-inch LCD display (with 480 by 272 resolution), touch screen with anti-glare and ability to connect up to four cameras to the LCD. 
The cameras work with 720 x 480p for crystal-clear images. Mount the display on your dashboard or windshield, whichever is convenient. 
It also comes with rear assist line markers when reversing, a feature that demonstrates user-friendliness. 
Why you might like it 
At well over $600, Furrion is top of the line among reversing cameras. The kit comes with a one-year warranty.
It may not be for everyone, but Furrion shows (and stands by) advancements that can be made in reverse cameras. 
Masten 4.3 LCD Rearview Mirror Monitor With 2 Inputs Vehicle Specific Mount Camera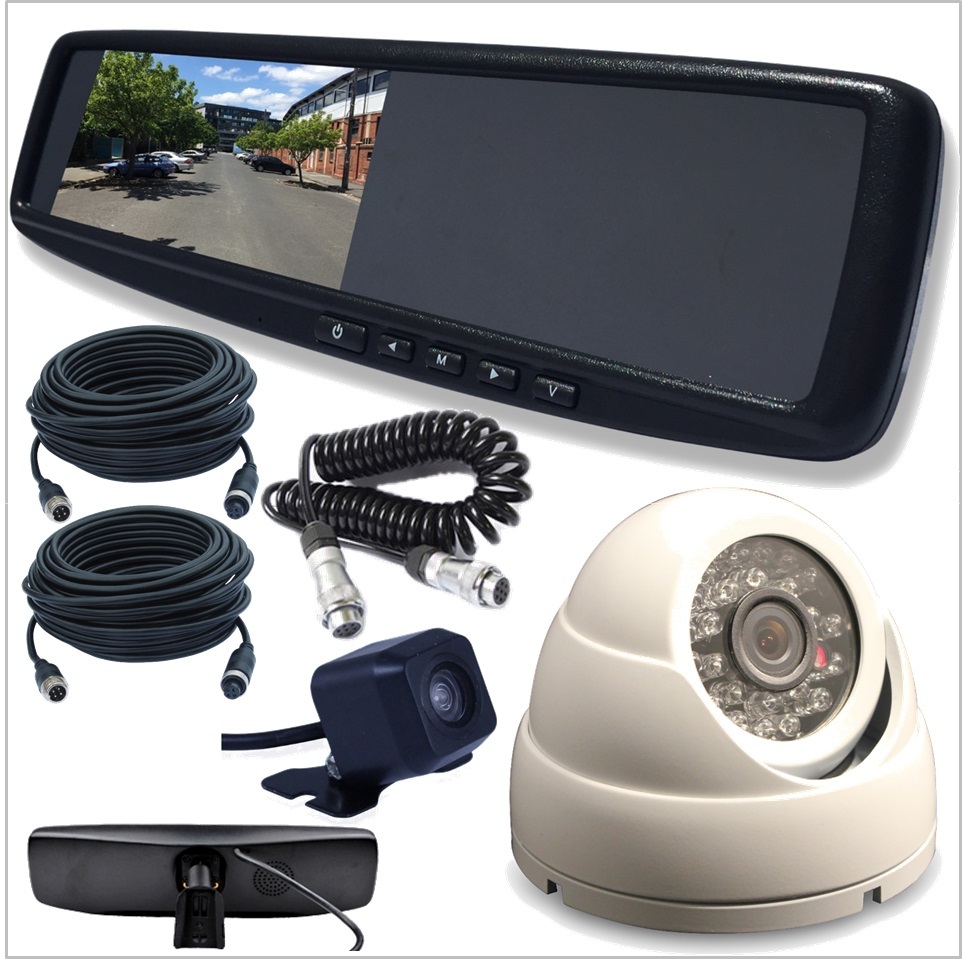 What it is
This Masten product provides access to a rear view mirror constantly even when you're not reversing, as afforded by its fantastic design. Just replace your current one with the rear view mirror included in the kit. 
Masten features a dome-shaped camera, 24 infrared LEDs for night view and dust and waterproof capabilities. 
Why you might like it 
On the monitor, both camera inputs maintain power trigger control wires separately. This means you can automatically display as well as switch between using the cam for reversing or as a rear view mirror. Nifty, huh? 
Final Note on Reversing Cameras for Your RV
A car or caravan reversing camera can work wonders on your safety, convenience and ease of navigation on the great wide outdoors.
But you don't have to spend a fortune on one. Select one from our list above based on your personal preference and budget, whether a modest camera kit for a simple vehicle mount, multiple cameras for a holistic view for day - night switching or waterproof reversing cameras for your 4WD or Ute.
Caravan accessories like reversing cameras are increasingly becoming necessary rather than just a want. They make life easier and safer on the road.
So take your time shopping  around and finding an excellent alternative if your current option is a bit expensive, lacks anti-reflection technology or another important feature,  or can have more helpful installation.