Best Awning for 4WD: What You Should Buy in 2022
The joys of camping or spending time in the great wide outdoors are best experienced on board your own 4WD. 
Adding to a 4WD's charm: the right awning that will provide you with permanent shelter whenever needed while exploring Australia. 
The best 4WD awning is reliable, relatively inexpensive and can be really quick to set up for optimum protection from the sun, rain and the elements. 
Let's get started with this comprehensive best 4x4 awning guide, beginning with that all-too important question: Do you need a 4WD in the first place?
Why Get a 4WD in the First Place: Roof Rack, Serious Off-Roading and All
Four-wheel drive or 4WD is used to describe vehicles that are used mostly for actual off-roading. Many, although not all, 4WD vehicles boast of a centre differential helping divide the power and torque between the front and rear axle. 
4WD systems
Anyone who considers themselves serious off-roaders will typically have high and then low range gearing. The latter makes it easier for the engine to propel the unit at a lower speed when it comes to steep terrain. 
Many 4WDs don't have high and low range, yet will still be able to do off-roading. 
Different systems exist in different 4WD models, with some requiring the driver to stop the vehicle and engage the 4WD system and others engaging all four wheels all the time. 
4WD benefits
The gains you'll have from getting a 4x4 vehicle (awnings as added thrill) will largely depend on the road conditions as well as how you'll drive the vehicle. This is also why it's rather difficult to categorically pin down which is safer, AWDs, 2WDs or 4x4 vehicles. 
One of the key benefits of a 4WD is that the system helps the vehicle accelerate from a standing start with better traction than a 2WD, especially with wet or slippery roads where the traction is equally distributed among all four wheels. 
Regarding size, since many 4WD vehicles are bigger than others, they can help enhance crash performance. 
4WD also assists in traction based on the conditions when towing a caravan or boat. It also comes in handy when it comes to driving on sand. 
Now that we've got this out of the way, it's time to discuss 4WD awnings and the various options you have available on the market. 
Types of 4WD Awnings to Choose From 
There are several different kinds of 4x4 awnings. Ultimately, your final choice will depend on where you want to mount your awning. 
Most of these things are mounted on the offside or passenger section of the rig. This helps easily and safely access the awning and set it up, particularly if you're pulling up roadside to eat or take a much-needed break. 
Here are the basic types of awnings for cars. 
Side awning
A 4WD side awning tends to be the most common awning for cars, offering shelter along the side of your vehicle. Awnings like these are highly sought after in Australia.  
Rear awning
A common option for 4WD awnings is mounted at the rear of the vehicle. This can be helpful if you're planning a slide-out kitchen, providing shelter for lunch or dinner.
Batwing or foxwing awning
This is a side-mount awning that comes up quite gigantic, from 180 to 270 degrees and spanning the side and the rear of the vehicle. This type of awning appeals to those with large groups or families, and are looking to get plenty of shade coverage. 
Types of other awnings
270-degree car awning

Corner awning

Automatic awning

Rear awning tent
How to Choose the an Awning for 4WD
The goal is to ensure that the 4WD awning you will be purchasing is the right fit for your vehicle and lifestyle. Here are some factors to consider to arrive at a smart buying decision. 
Size
Awning sizes will determine how much shade it offers. For instance, take note that you need to consider the depth and length of the awning, along with the number of degrees it covers. 
Think of who will seek shelter under the car awning. Will it be just you and your mate or partner, or will an entire group or family seek refuge? Are chairs, a table and BBQ part of the picture? 
Be visual and think of what you would like to fit under the pull out awning. Make sure to shortlist options with the right size. 
You might think of scrimping on it and going for a smaller, more affordable awning. This will backfire if you need big coverage and you will likely end up bringing extra shade with you. 
In addition, consider the size of the vehicle (in this case the 4WD) and how the awning will fit on. If the awning appears too long, it will stick out on either side of the vehicle, even getting stuck on tree branches. 
Quality
The price will likely reflect the quality of the 4x4 awning you are looking at. 
Some relevant features here include the grams per square meter (GSM), denier or yarn thickness, and awning fabric type such as cotton or polyester. 
Quality is of utmost importance when purchasing an awning for your car. Most awnings are created out of ripstop polyester cotton, which varies in weight and is measured by GSM. Good quality sits somewhere around 250 GSM. 
It won't hurt to look for features such as UV resistance or a reflective layer. This special coating helps protect your awning from the sun along with lower-than-ideal temperatures. 
Waterproof awnings are also nice to have, or perhaps a necessity even. Because what's really the point if you're going to get leaks during rainy weather? Check if it is mould resistant while you're at it! 
Finally, check for awning material fittings such as lightweight, heavy-duty aluminium poles and cast metal hinges. Avoid plastic fittings if you can do so.
Weight
Another critical consideration to make is the weight of the awning. Just like other 4x4 accessories, the weight of this item will affect the payload of the rig, as well as impact the GVM and GCM. 
All vehicles have a max carry load for their roof, and while your roof may accommodate other things, you would want to go for a lightweight choice. 
The bigger the awning, the more it will weigh. For example, a 270 degree awning will prove heavier than your typical side awning. 
Attachments 
An awning may also come with an option to add a few accessories. Walls, for one, provide added protection from the weather or offer the option of enclosing the structure and making a rooftop tent. 
You may also consider to attach LED lights, with LED strips a common accessory that comes with 4WD awnings. 
Other crucial considerations
It's also worth answering a few added questions before buying your own 4WD awning. 
How easy is the awning to set up and how many people will it take?
How does it fit your budget or what you're willing to spend? How often will you use the awning in the first place?
Are you occasionally going on camping trips or is it a long-haul trip around the country? 
Perhaps what type of shade are you looking for: side or rear coverage? Maybe a 270-degree one? 
Best 4WD Awnings in Australia This 2022
We have created this roundup of top-rated and highly reviewed 4WD awnings to guide you in your search for the best this year. Have a look and see if they tick the right boxes for you! 
Darche Eclipse Awnings Range
Darche is a highly popular brand when it comes to quality camping and outdoor gear. 
Its Eclipse range of awnings is a market standout, coming in various sizes and types for easy setup and packing down. 
The Darche Eclipse range isn't one to be ignored, with two sizes for a side awning (2x2.5 metres and 2.5x2.5 metres). You're also treated to a side or rear 180-degree awning or humungous 27-degree side awning, swinging out along the 4WD around to the back via the aluminium swivel hinge. 
There's no question that the Eclipse range boasts of high-quality materials, from the polyester cotton ripstop canvas to the heavy-duty steel and alloy swivel hinge system. 
What's more, these 4WD awnings suit most kinds of roof racks, such as flat and steel basket racks. The package comes complete with alloy poles, pegs, guy ropes, mounting brackets and what you'll basically need to set up. 
Why you might choose it
The Darche line provides the most weather protection for both shade and rain. 
Its two-year warranty is pretty standard as well. 
It's also a one-person job when it comes to setup, taking only a couple of minutes. 
If you want a 4WD shade awning that stretches the entire length of your large 4x4 wagon and even across the rear, then it's a highly viable option. If you're spending a few nights under the stars, it's also a sound option with wall kits for total enclosure spelling privacy. 
What might turn you off
The Darche awning is slightly heavier than others of the same size. If this isn't a problem, then let's look the other way and celebrate the Eclipse range for the brilliant lineup of awnings that it is. 
Oztent Foxwing Awning Range
Let's talk about the specifications. These Oztent foxwing awnings are available in 180 or 270-degree sizes, ripstop polyester, 2,000mm water rating and accessories such as tenses, walls, awning extensions and aluminium poles. 
Choose from the Foxwing 180 or Foxwing 270-degree awnings, which can serve you well throughout weekends or during extended road trips.
Setting it up is also considered a one-person endeavour, although of course two heads are better than one! 
Aside from the continuous skirt providing added protection, either side of the Oztent awning features zippers to add other accessories. 
LED mounting points are handy, plus a lightweight yet solid aluminium frame. 
Why you might choose it
The Oztent 270-degree product is one of the lighter awnings we're reviewing, so it's a sound option if you find yourself limited in roof load capacity. 
If the Darche range is pretty steep and outside of your budget, then you might find this brand the next best thing. 
What might turn you off
Nothing much if you don't mind being provided with all that you need to set up, from reflective guy ropes and pegs to a heavy-duty storage bag. It comes with a two-year warranty, if you're interested to know. 
Kings Side Awning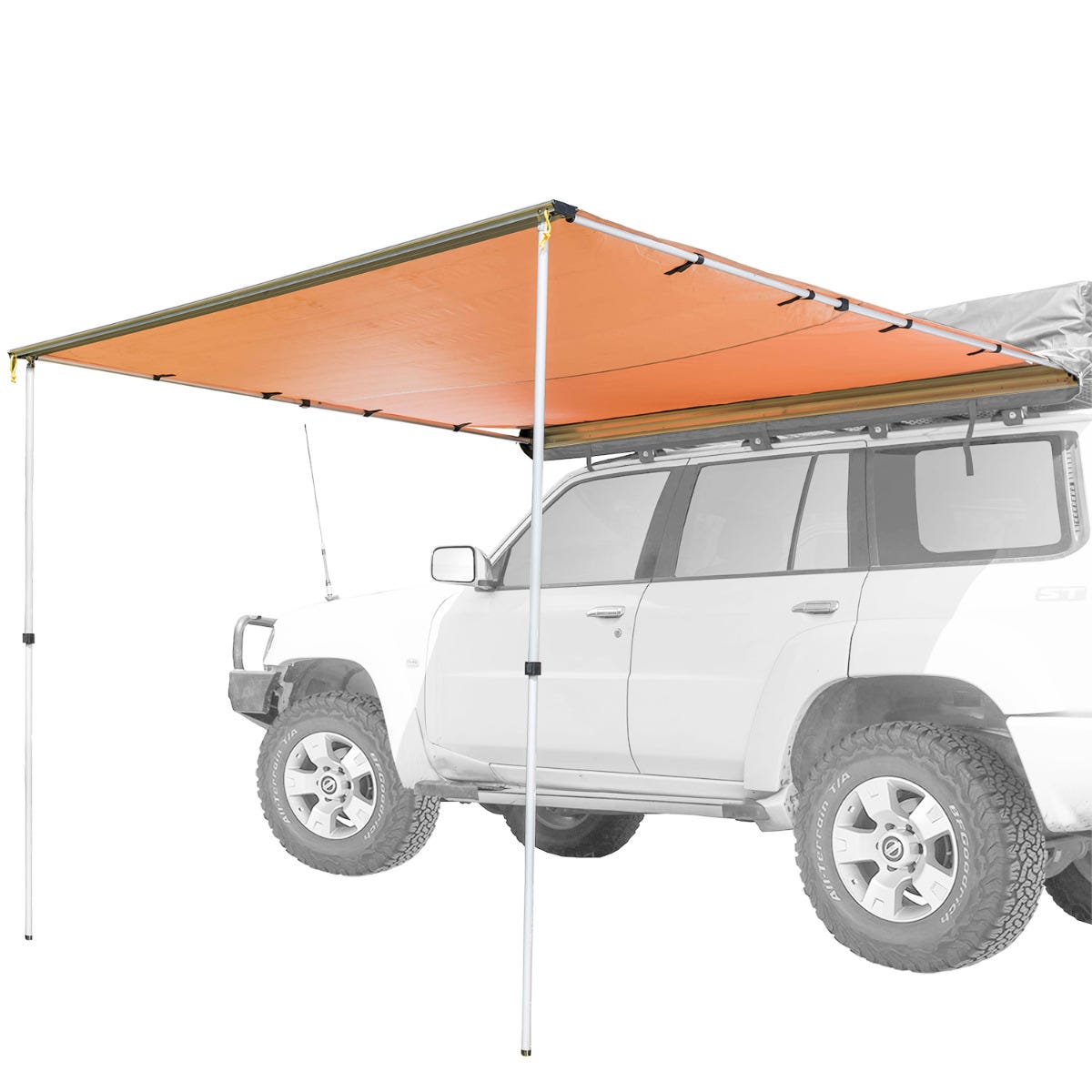 Now for best value, Adventure Kings awnings aren't one to be forgotten or ignored on the Australian market. 
Kings awnings come in a full range of styles and sizes, but it's the Kings side awning that proves to be a bestseller, measuring 2x2.5m.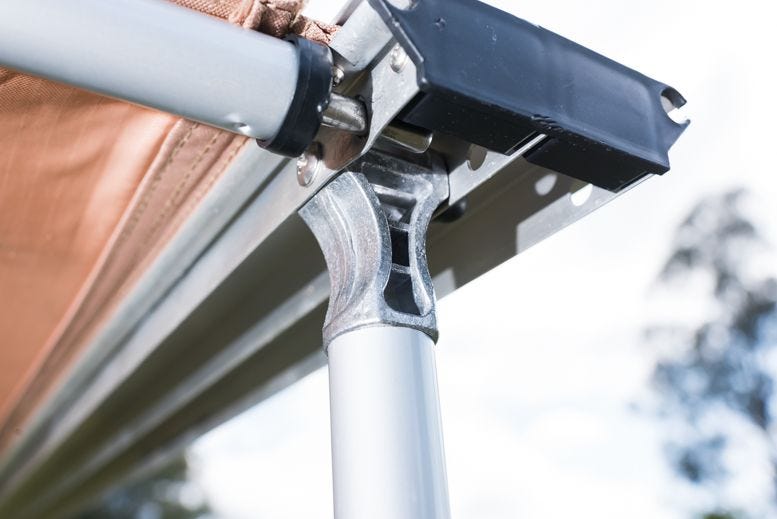 The Kings awning may be one of the cheapest you'll find, but its features and value for money just might surprise you. It's quick to set up, has a light 170GSM ripstop polyester material and rated UPF 50+. 
Might we add that it's waterproof as well?
Why you might choose it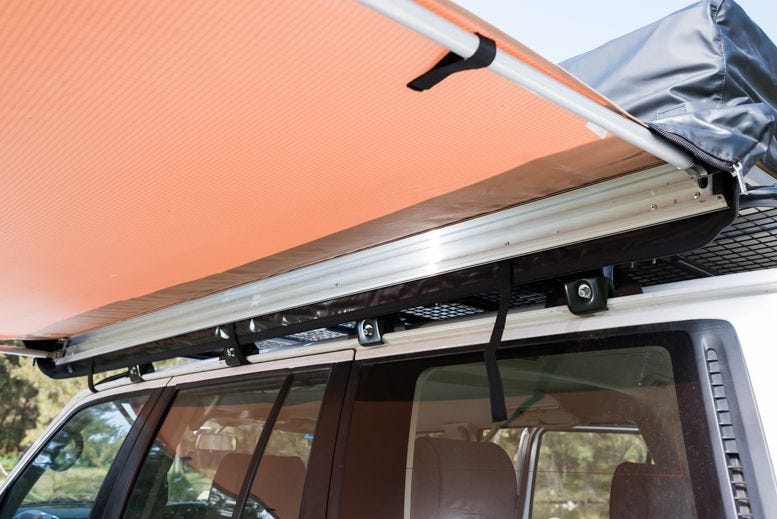 Its affordable price is a major consideration, plus the fact that this Kings awning is user-friendly and its dual-channel design makes folding away a breezy task. 
What might turn you off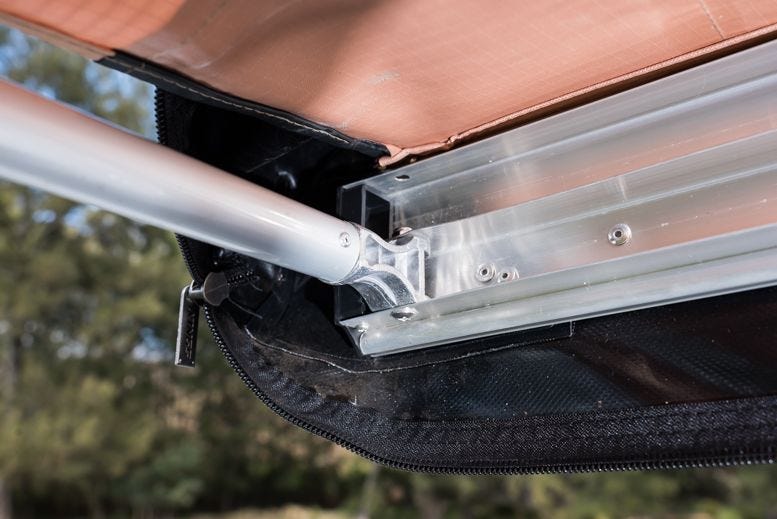 This 4WD awning doesn't come with mounting brackets and parts -- meaning you have to buy them separately. Note, though, that the awning can be mounted to most roof racks around, creating an awesome roof rack awning as desired. 
The reinforced PVC bag is a bonus for us, as it keeps the item well-protected during travels. 
Rhino Rack Batwing Awning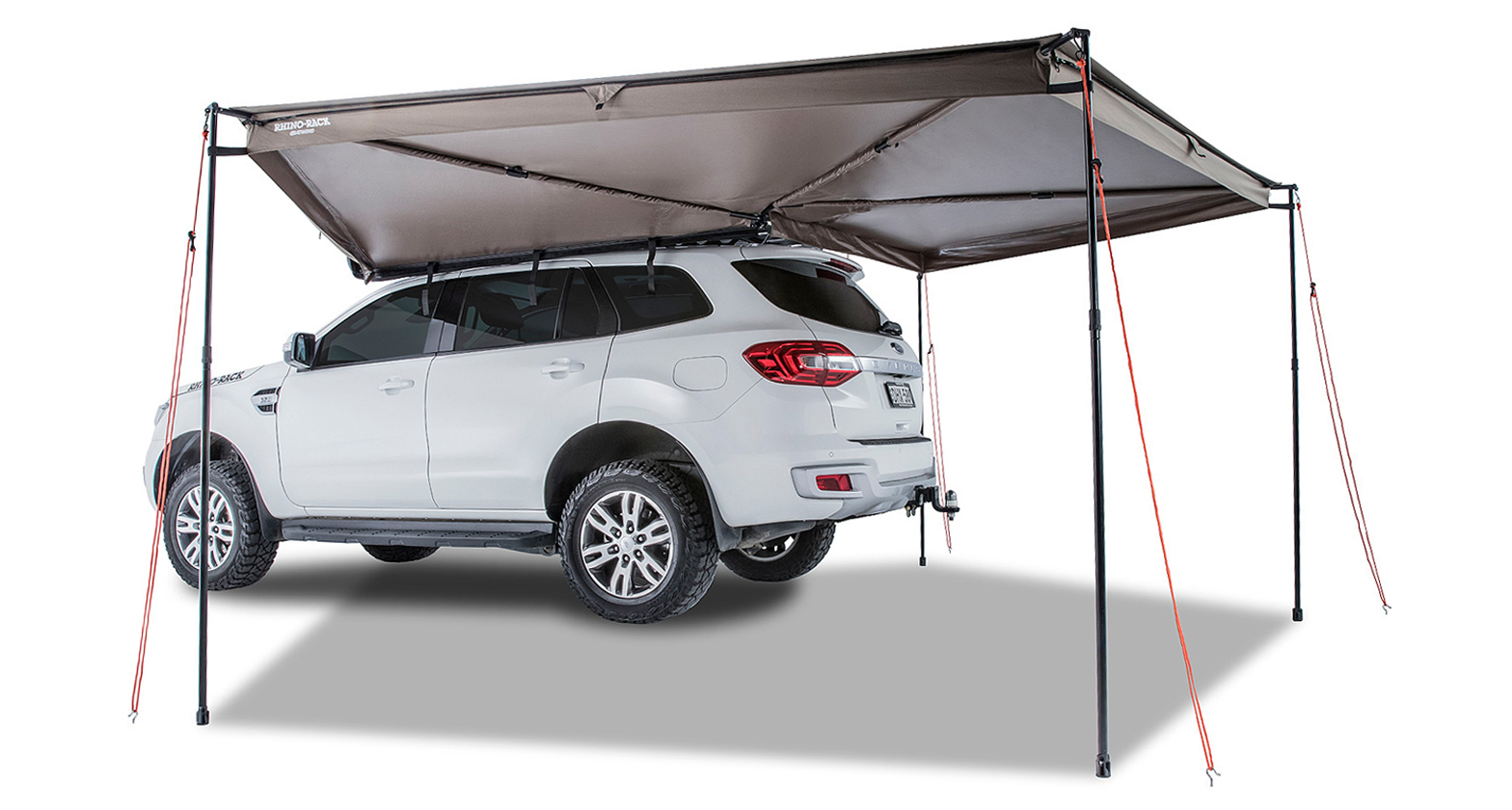 Rhino Rack just might be the uncontested winner when it comes to batwing awnings. 
The brand is partial to 210 deniers, the thickness of the strand of the poly cotton for its canvas. This deviates from the industry-standard GSM, although we can't tell for sure why or if it's more of a disadvantage rather than a benefit.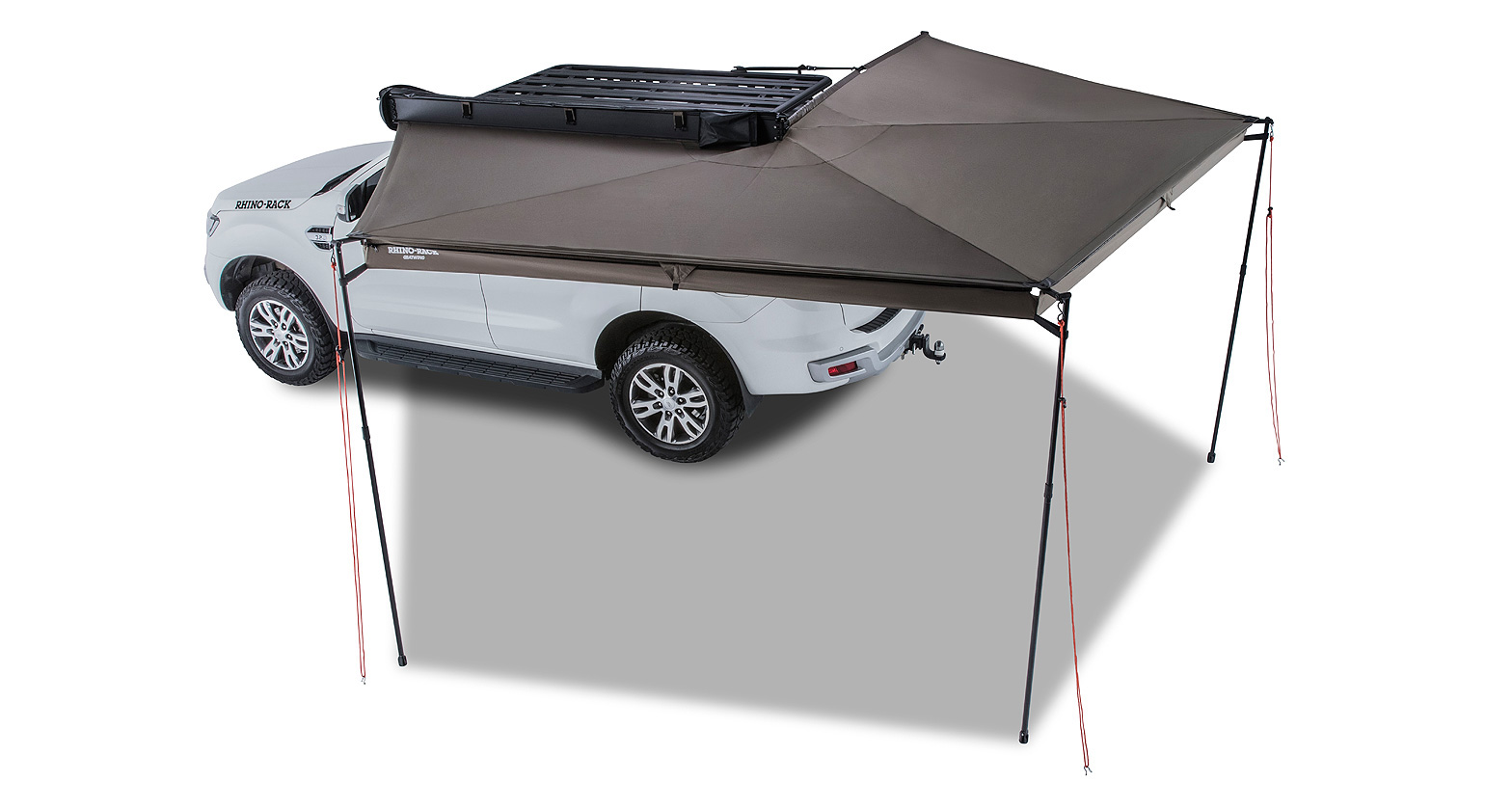 This batwing awning has a 2000mm water rating and a water and mould resistant canvas. 
Based on an independent test, the product has a 50+ UV rating. 
Why you might choose it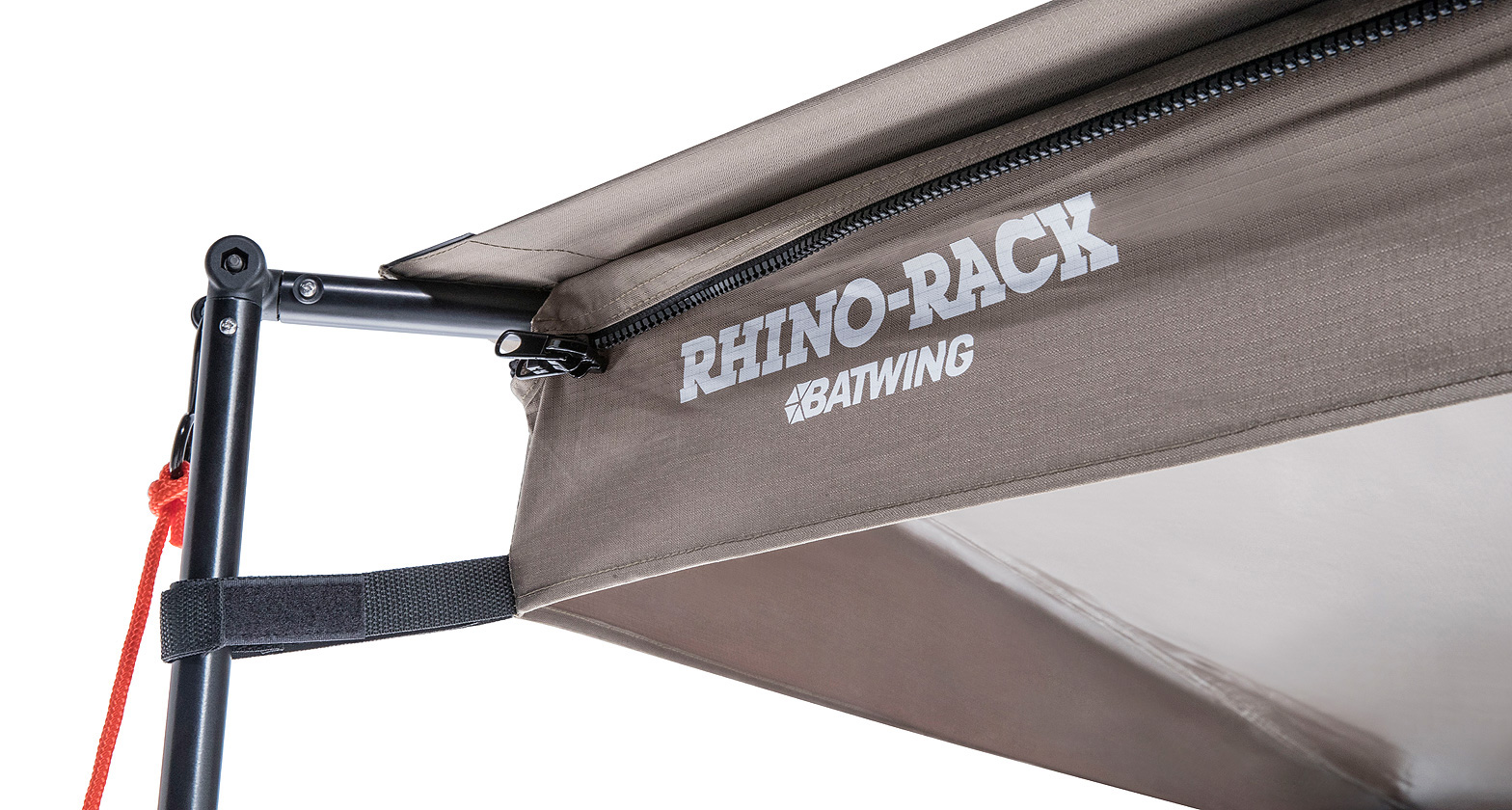 Great price point, excellent among batwing awnings, includes everything -- what else would you look for if this is the 4WD awning you're eyeing?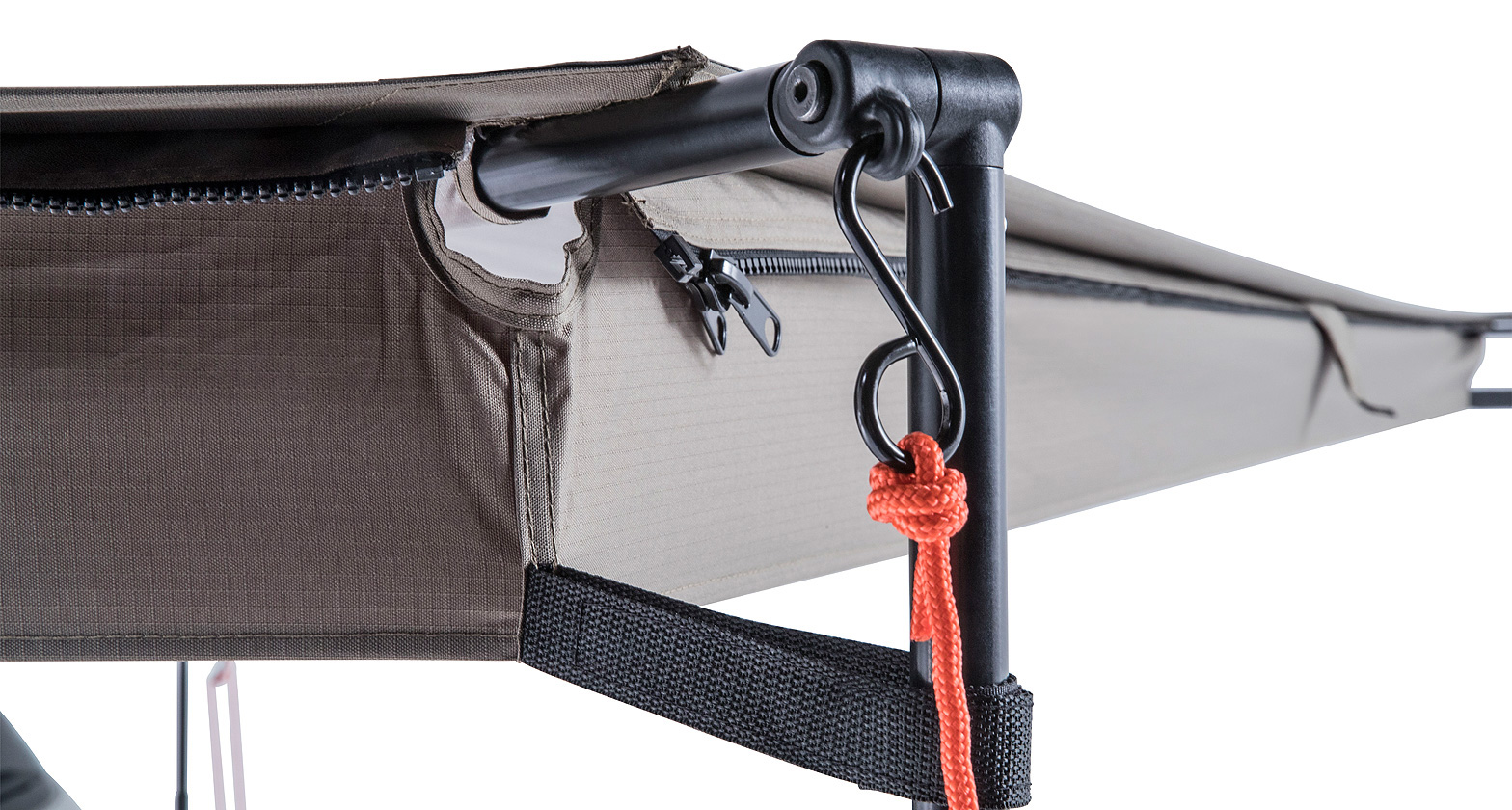 We also personally like that the awning fits perfectly with the Rhino Rack roof rack system, as well as the lightweight accessories that you can get your hands on. 
To boot, the frame and poles are coated with black powder and are rust resistant. 
What might turn you off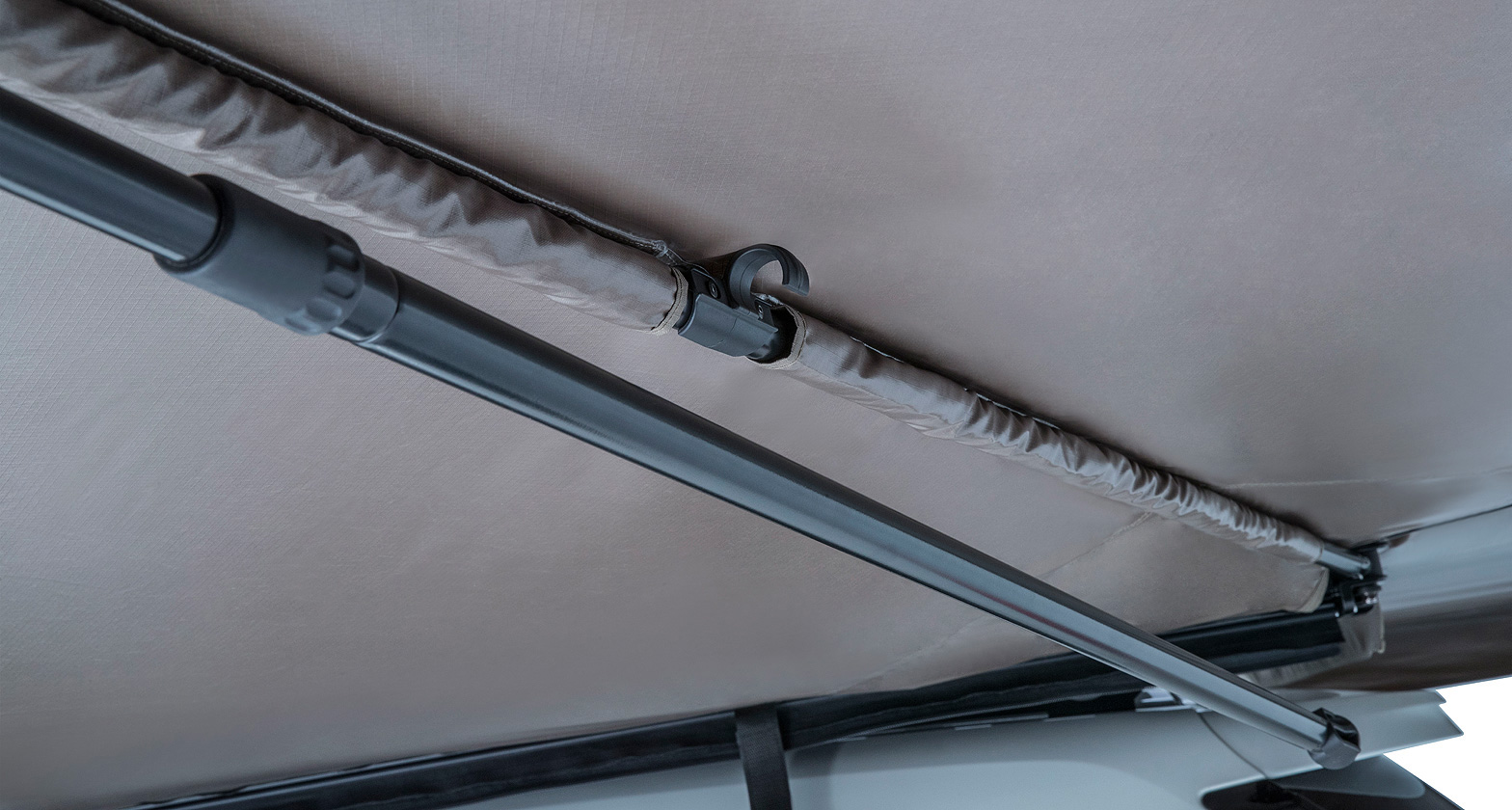 Well, it offers just a one-year warranty, which might be a deal breaker for some buyers. 
Bushranger Awning
Now comes a user-friendly option, particularly for those who are just starting out and exploring the world of car awnings for their outdoor adventures. 
Measuring 2.5x2.5m, the Bushranger awning is claimed to be manufactured and designed tough, complete with a two-year warranty. 
The awning attaches securely to most vehicles, with self-contained retractable awnings fitting onto either side of most roof racks and roof bars . 
True to its name, this product is prepared for harsh outback conditions, featuring a 600D polyester canvas that's PU-coated and with 50+ UV rating. 
It's also mould and water resistant, as well as with uniquely designed flexible rubber joints for 190-degree movement. The latter avoids damage  to rafter poles and legs with winds getting a hole of the awning. 
Why you might choose it
The Bushranger awning is easy to set up. For instance, the twist locks on the telescopic poles make for an easy time using the product. It also comes with a two-year warranty and a heavy duty storage bag for secure, foolproof awning storage. 
What might turn you off
The features are rather limited, but with the unbeatable user-friendliness and quick-starter appeal, what could possibly go wrong?
Final Note: Side or Rear Awnings? How About Foxwing Awnings?
We hope you got enough insight into the different types, features and benefits of car awnings for your 4x4 drive adventures. 
It takes good, diligent research into camping gear and equipment for you to get the best deal or product on the market. It may not necessarily be the cheapest that's the bad; at the same time, going big might not be smart if you have a smaller vehicle. 
So whether it's a side awning, a rear awning or another type that you're looking at, look hard and well and we wish you the best of luck in your awning shopping!